Family and Friends Stick night for MCTC Adult Phlebotomy.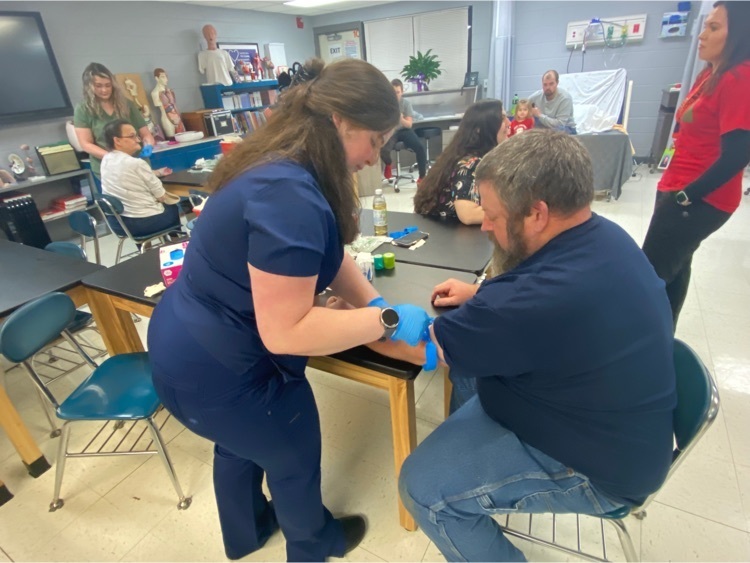 Monroe County Healthy Students Newsletter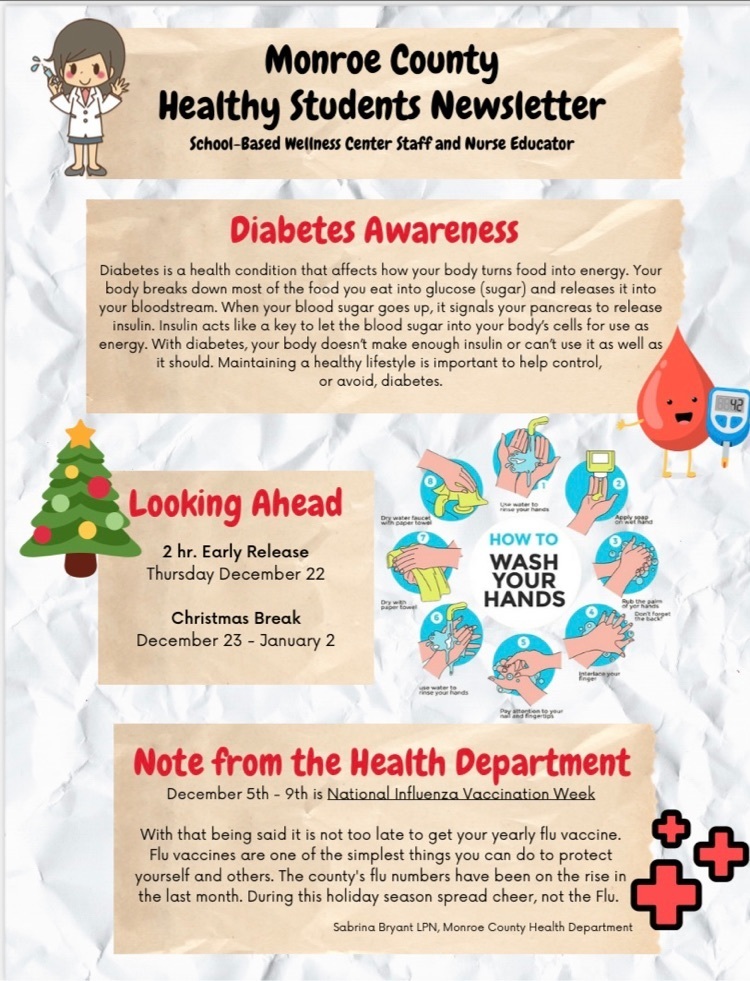 School bus delays: Bus 199 will be about 25 minutes late this morning. Bus 215 will be about 15 minutes late this morning.
Adult Classes at MCTC! Tuition assistance may be available! Contact: Sarah Hawkins – Greenbrier County WorkForce WV Career Center Phone: 304-647-1300 Email:
shawkins@r1workforcewv.org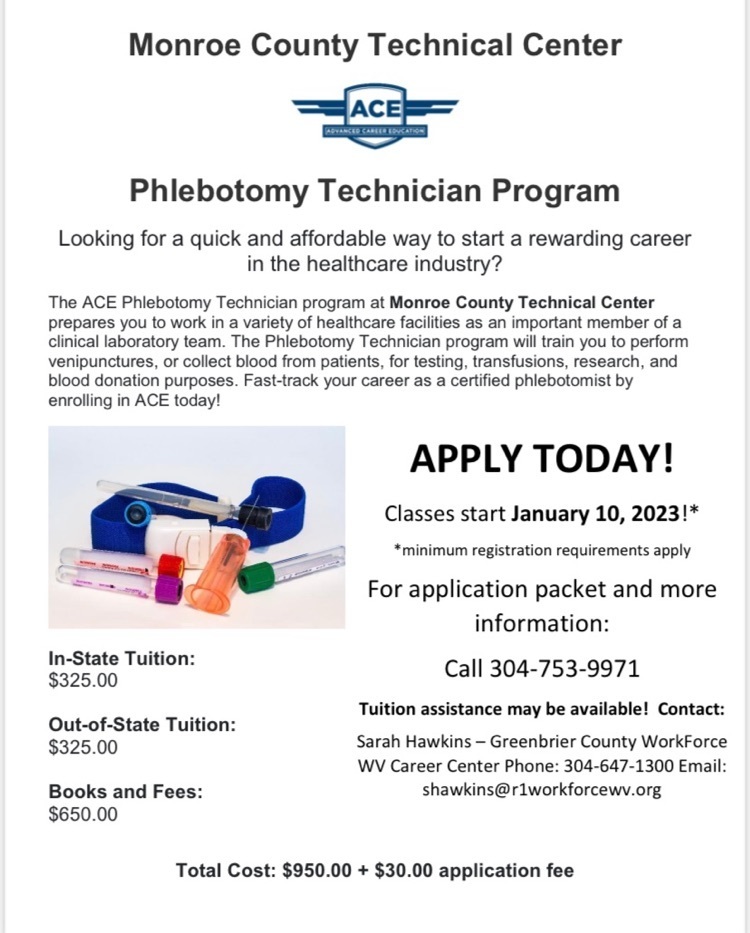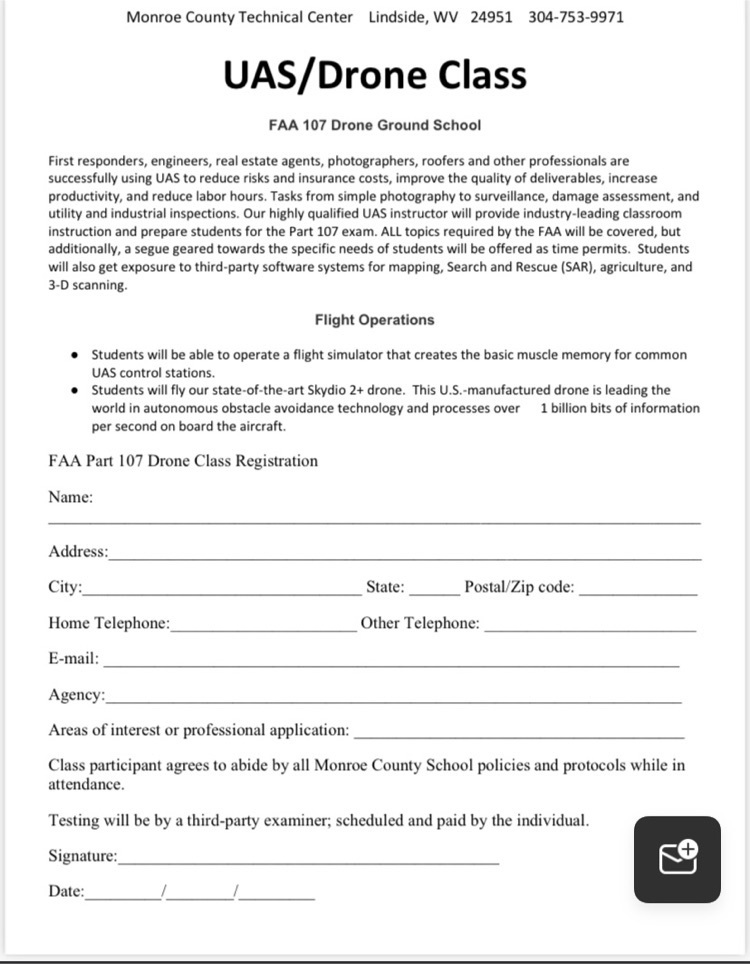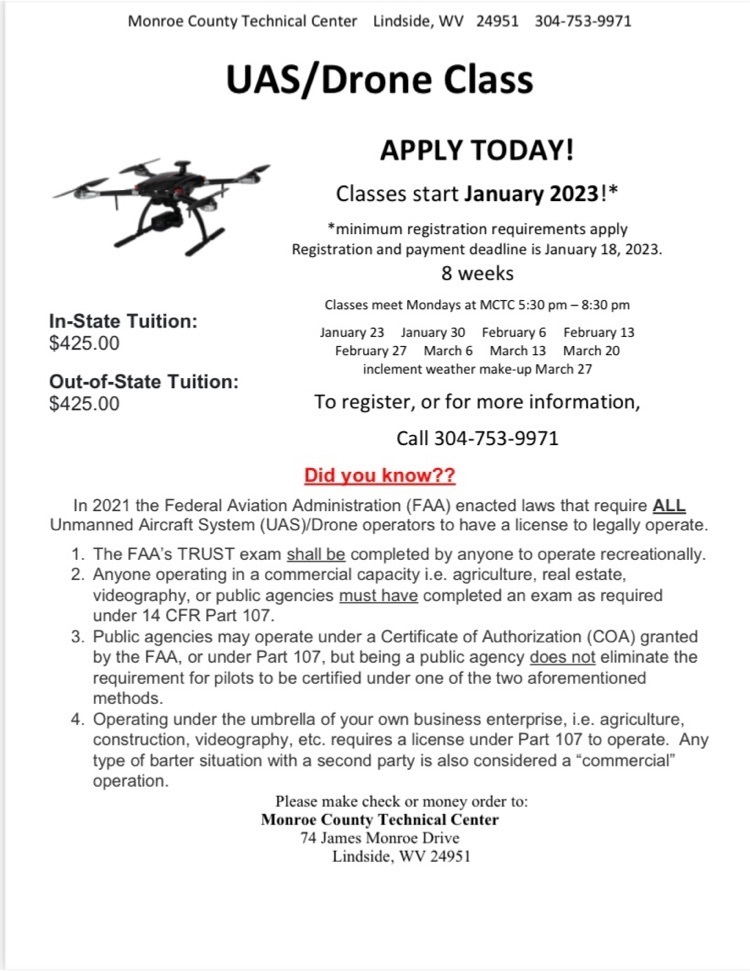 MCTC December Newsletter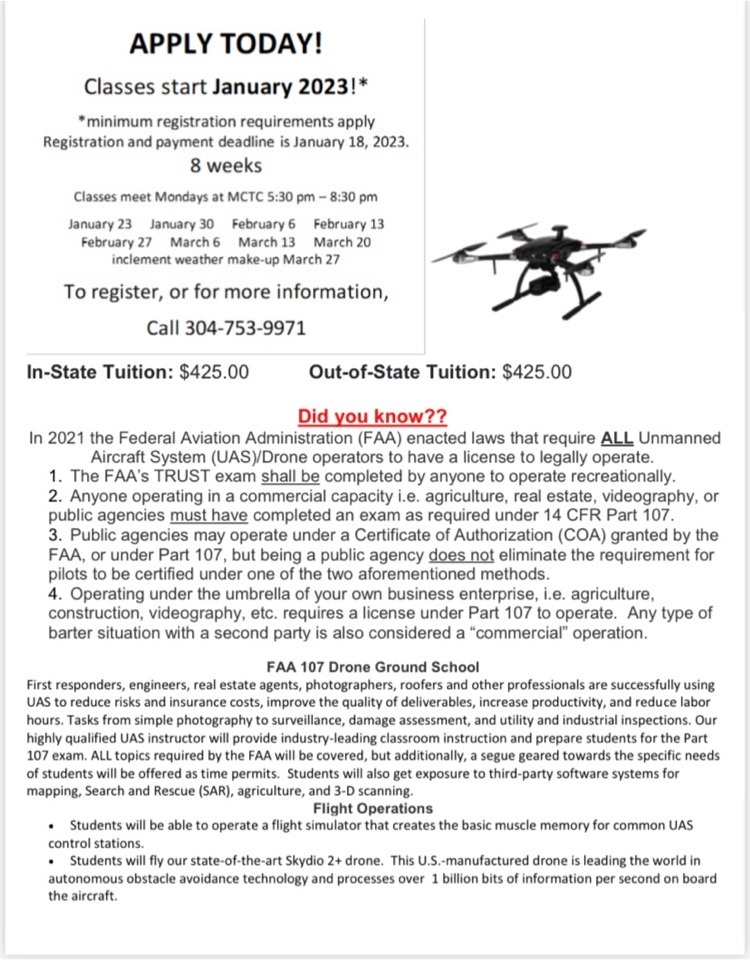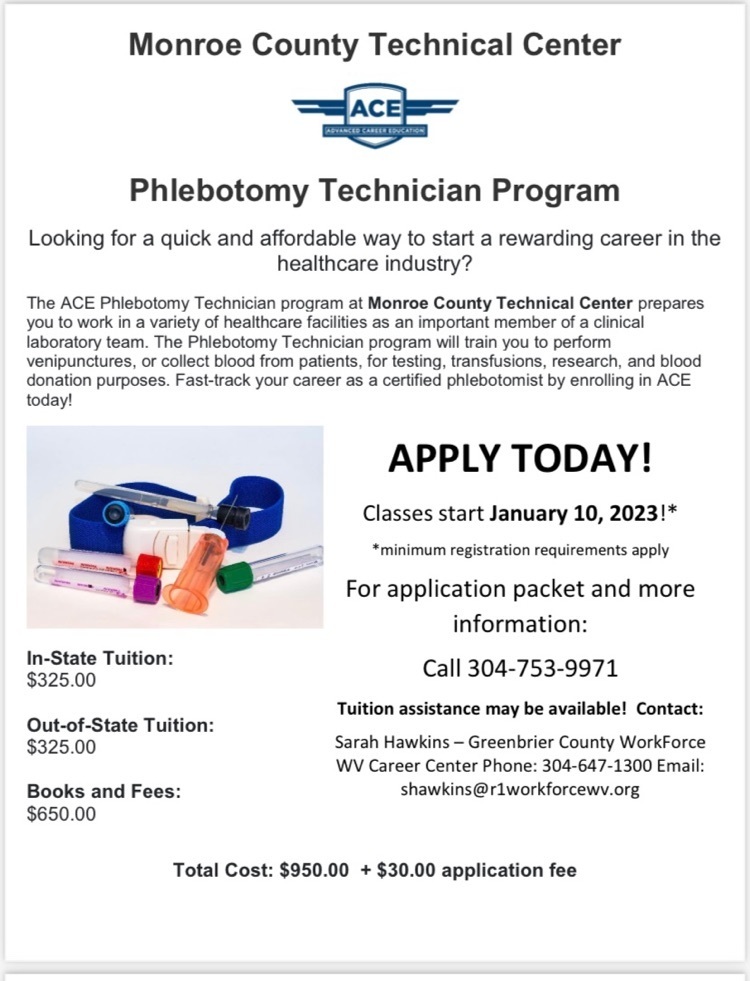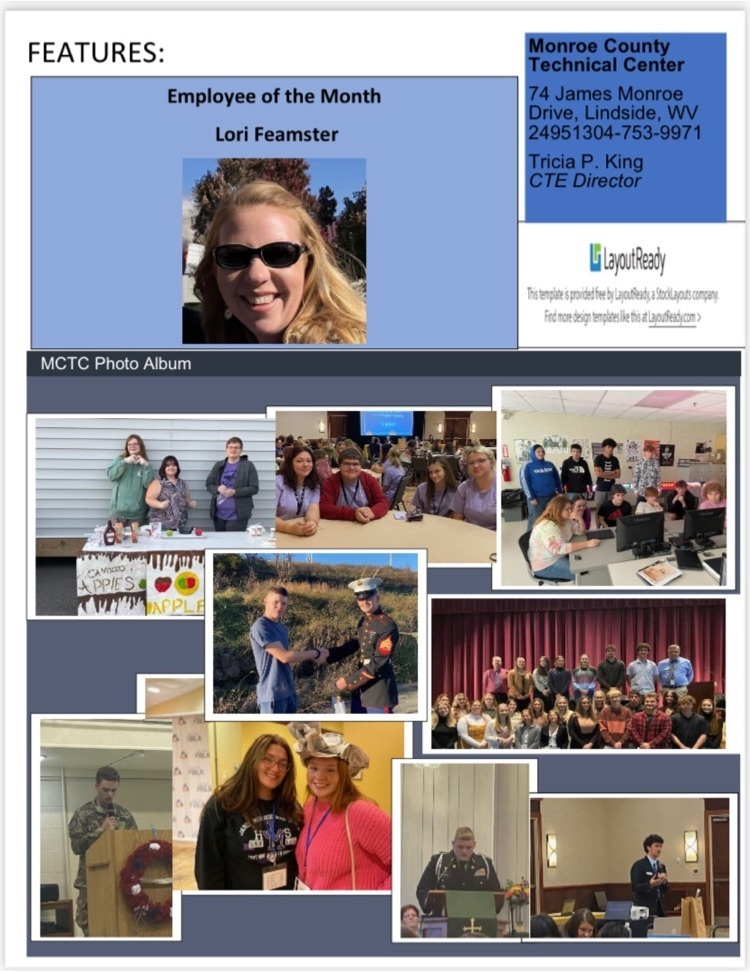 #GoMavericks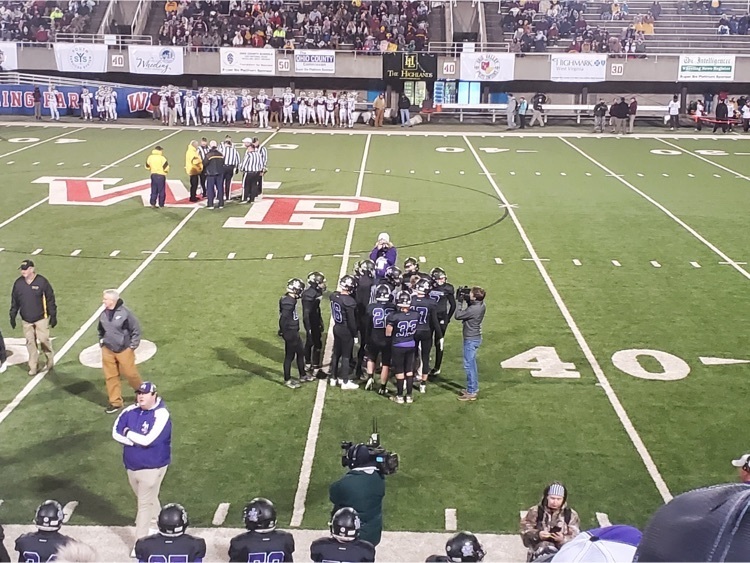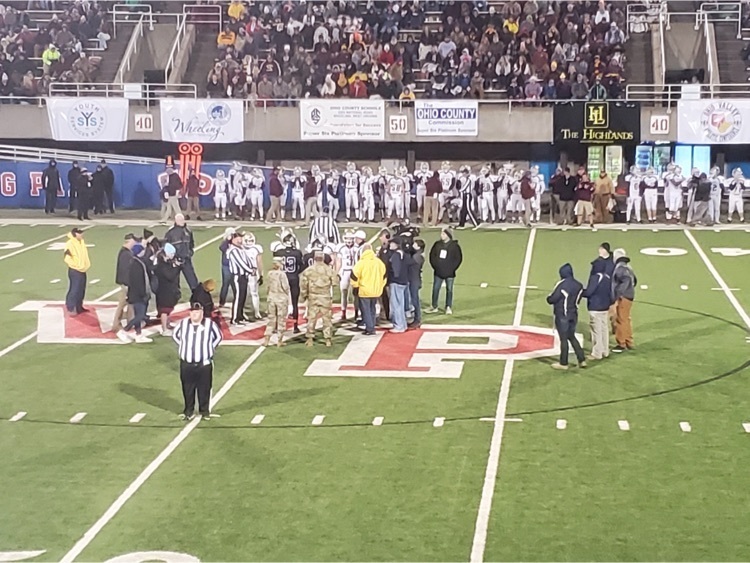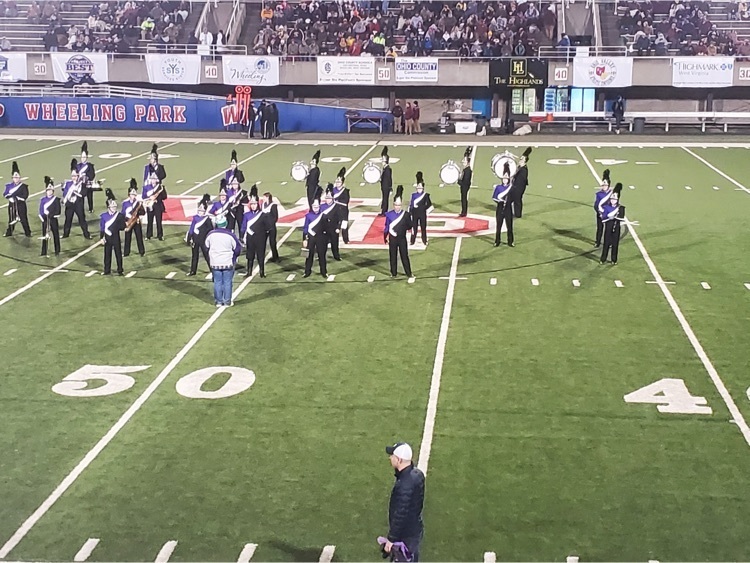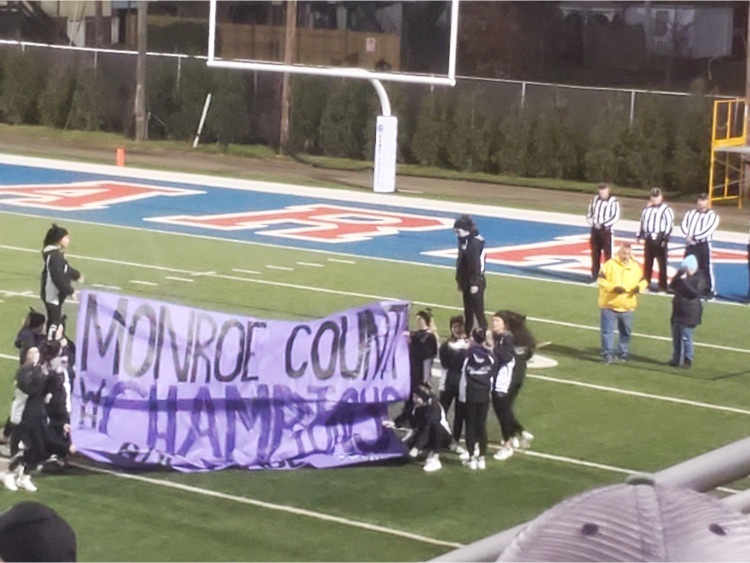 As our James Monroe Mavericks travel to Wheeling on Saturday, let's show our Maverick spirit by wearing your purple and black tomorrow at your schools. Let us also show our Maverick pride by sharing any pictures you take while cheering on the team at the game, on the way to the game, or your home celebrations. Make sure you tag us with #GOMavericks so we can let the world know how proud we are of our Mavericks.
MCTC JROTC Maverick Battalion competed at Glen Jean. They brought home 1st place Color Guard, 3rd place Platoon Drill and Ceremony, and 3rd place Team Overall. Congratulations Cadets!!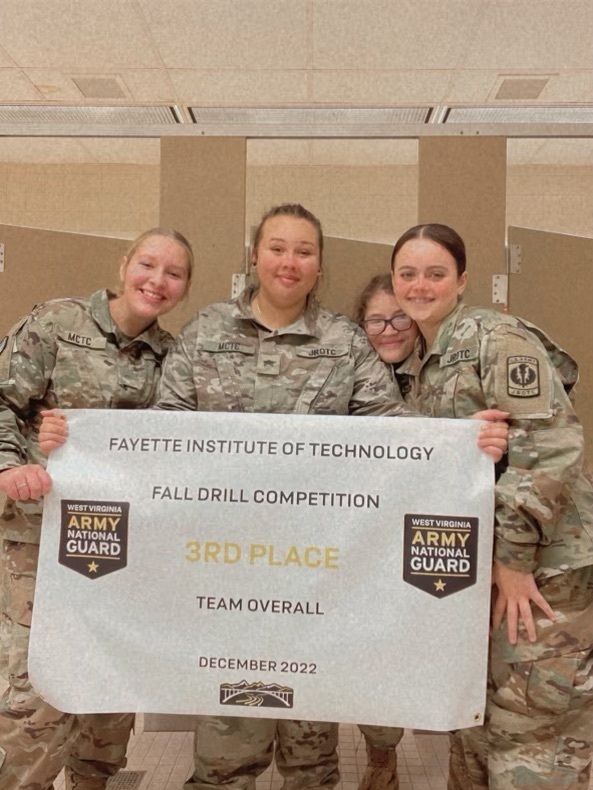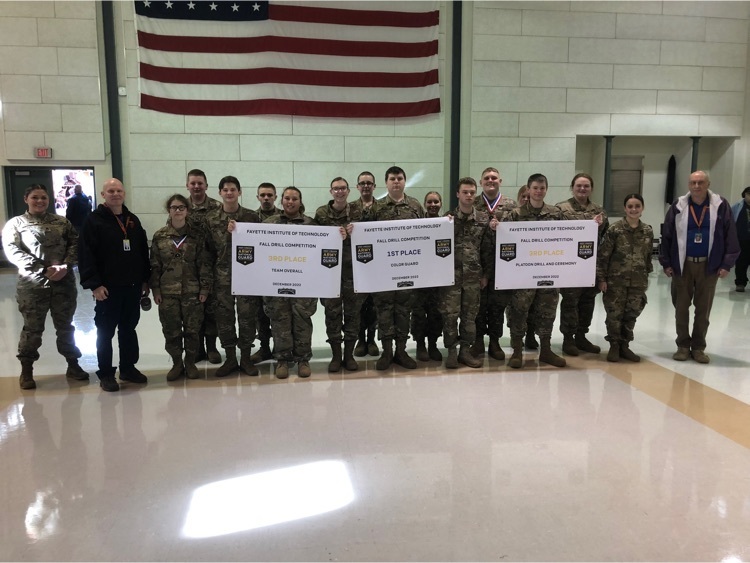 MVS and Peterstown Breakfast and Lunch Menus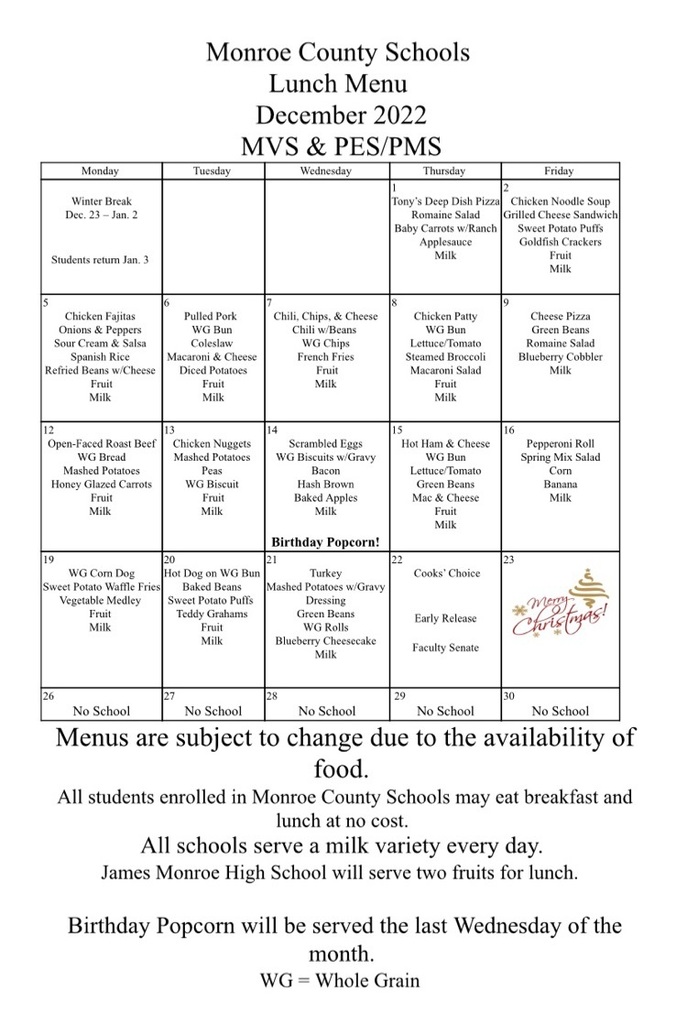 JMHS Lunch and Breakfast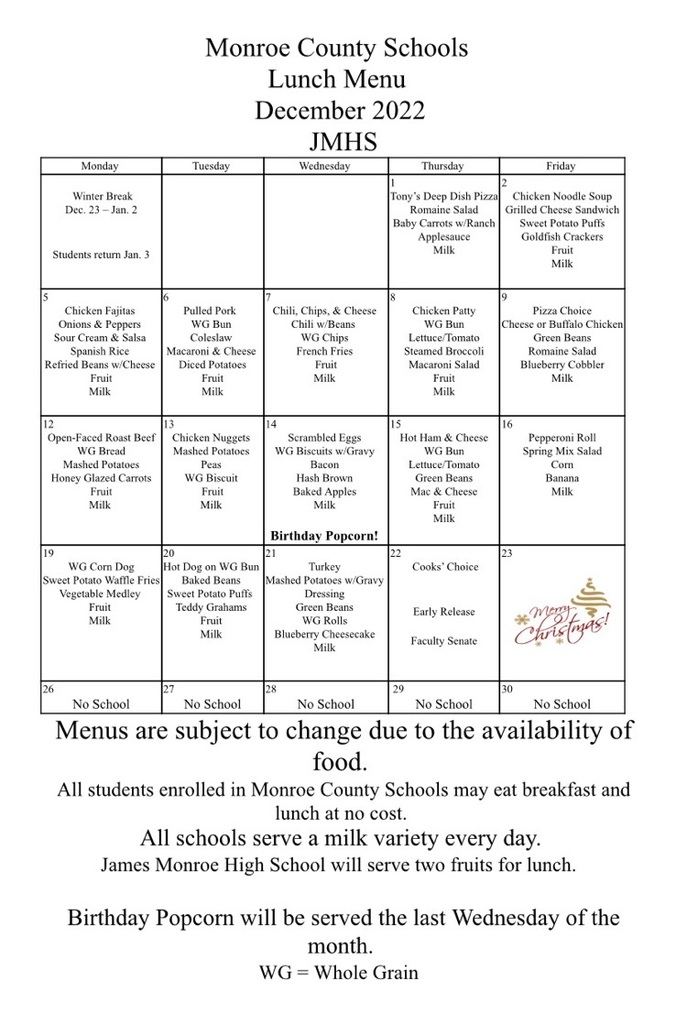 MCTC JROTC cadets served as greeters at the Lewisburg Applebees. Proceeds from selected menu items will go toward their spring trip.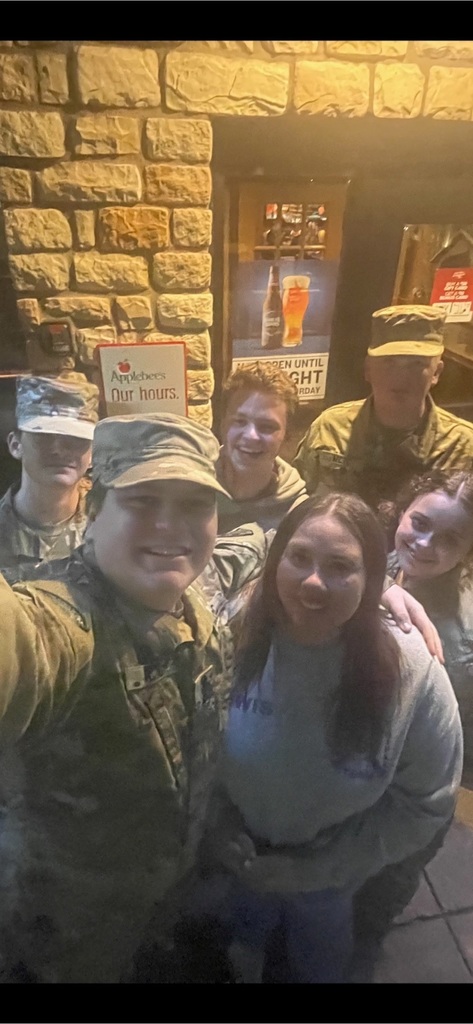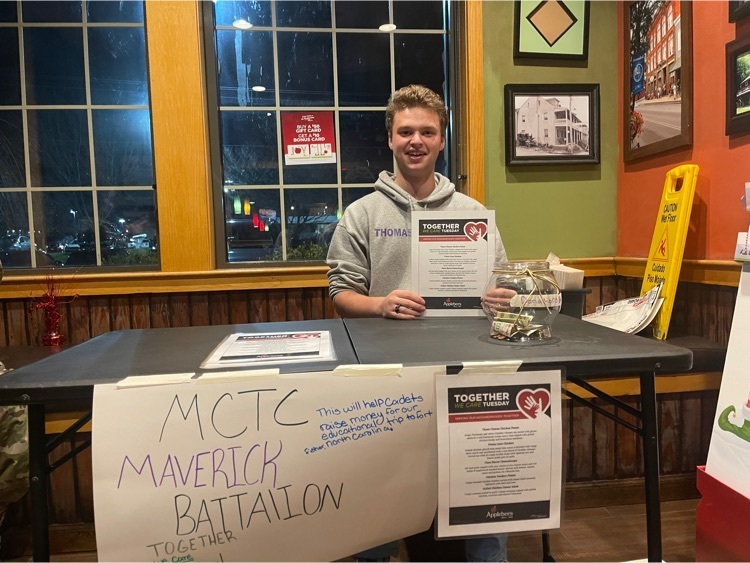 JMHS Wheeling Bound!! Fan bus for Adults will leave James Monroe High School at 12:00 pm. State Championship is 7:00 at Wheeling Island Park. Fans must purchase tickets at gofan.co (The school can not purchase your ticket) the cost of the bus will depend on the number of fans going. Please call Debbie Sams @ JMHS, 304-753-5182 to sign up for the charter bus. Football State Championship Rules - Online Tickets only!!! @ gofan.co -No Umbrellas -No Tents -No Buddy Heaters or Heaters of any kind -No Coaches cards honored -No Bags, Backpacks, Foods or Drinks ***** You must carry your blankets, extra clothes, etc -No Air/Bull Horns allowed Cow Bells are permitted!!!!!! So go out and buy some….. Let's make sure Wheeling knows MOCO is there.
JMHS football headed to Wheeling Saturday at 7:00 for the Single A State Championship game against Williamstown! Go support those Mavericks!!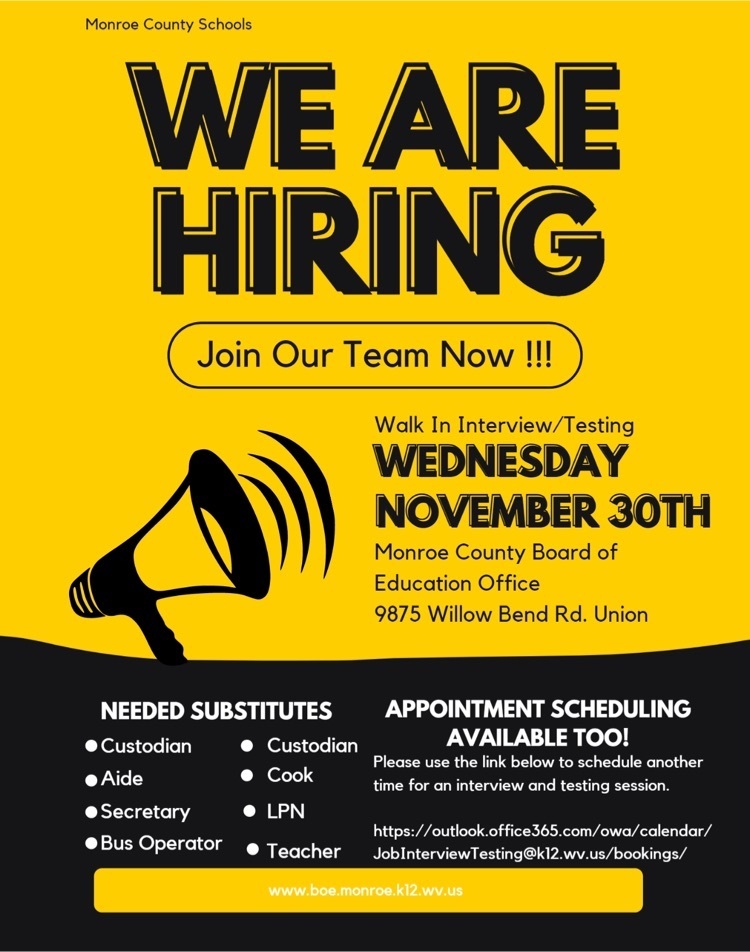 JMHS round 3 playoffs are Friday at home at 4:00 p.m. against Wheeling Central. Come support the Mavericks!
Name: ​Melissa Hodges ​​​is MCTC​​​​​'s Human Services Teacher​. She is in her second year as a teacher and had more than 1.5 years as a substitute. She currently has a Masters Degree​​​. Mrs. Hodges shared: "I am a local JMHS graduate and attended Concord University where I graduated with a business degree in 2010. I love everything about learning so I then moved on and completed my Master's Degree in Healthcare Administration. I started my professional career as the Executive Director of the Family Resource Network of Monroe County for three years. I loved everything about that job and being involved in my community. In the spirit of 'climbing the ladder' I moved on to work as the Clinic Manager for ARH for the next three years. At the time, I had very young children and chose to step back from the workforce so I could be more present with my family. I started substitute teaching once both my children were in school and found my passion. When the Human Services teacher position was created at MCTC, I knew it was meant for me. ​​​​​​​​​​​​​​​​​​​​​​​​​​​​​​​​ I love to read, spend time with my family, and watch/attend sporting events. I love being involved in my community and coaching cheerleading and helping with youth sports." Thank you Melissa for all your hard work! ​​​​​​​​​​​​​​​​​​​​​​​​​​​​​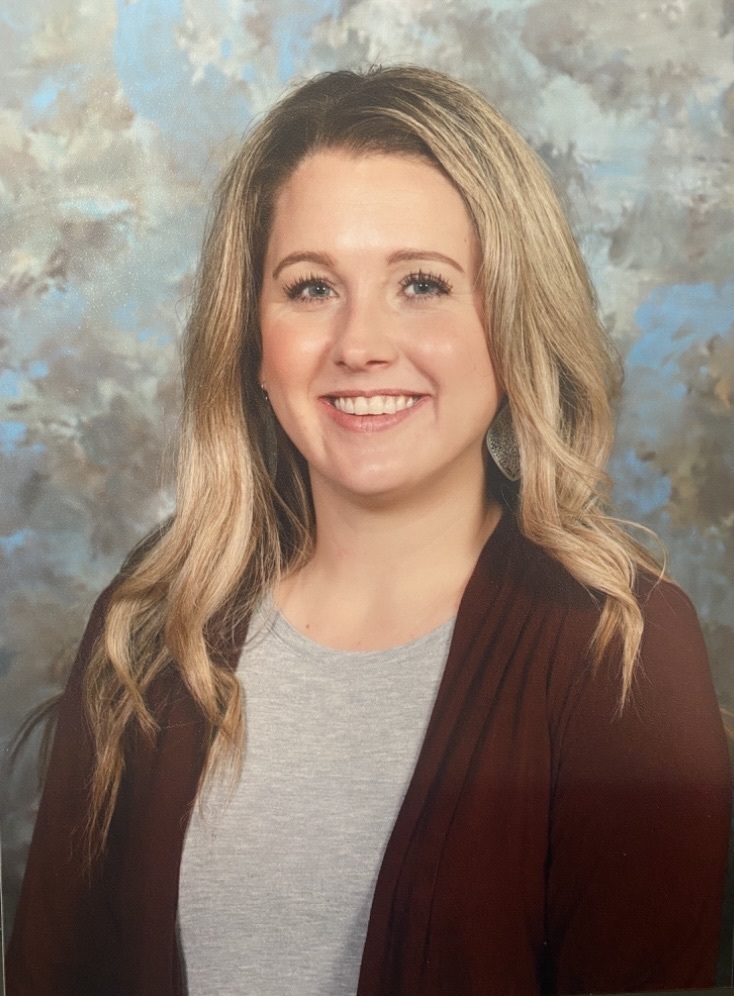 Tom Gardinier is the MCTC a Business Teacher with 3 years experience. He currently has a Bachelor Degree and enrolled seeking a Master's Degree. Mr. Gardinier shared: "I was able to bring 20 years of real world business experience to the students at Monroe County Technical Center. Before coming to the classroom, I worked for almost 10 years at The Greenbrier Resort. Before that, I ran an Allstate Insurance office in South Florida for 10 years. As a transplant here to Monroe County from South Florida, I have fallen in love with the people, the hospitality, and this beautiful county. I have been lucky enough to coach basketball and soccer at the middle school level, and currently am one of the baseball coaches at James Monroe High School. I enjoy watching all my kid's sports, including golf, baseball, basketball, softball, and gymnastics. I also enjoy exploring West Virginia and trying new restaurants." Thank you Tom for all your hard work!

Kelsey Walker​​​​​ is a First Grade Teacher at Peterstown Elementary School with 4 years of experience. She currently has a Bachelors in Elementary Education and certified in Special Education.​​​​ Mrs. Walker shared: "I received my Bachelors in Elementary Education from Bluefield State. I am also certified in Special Education. I taught Special Education at MVS in 2019 for half of the year. I then taught for 2 years in Summers County. I came back to Monroe County last year and taught 2nd grade at MVS. I had the privilege to come to Peterstown and be where my kids are and be closer to home. I love it here and am so happy to be a Pirate again. I love what I do!! ​​​​​​​​​​​​​​​​​​​​​​​​​​​​​​​​​​​​​​​​​​​​​​​​​​​​​​​​​​​​​​​​​​​​​​​​​​​​​​​​​​​​​​​​​​​​​​​​​​​​​​​​​​​​​​​​​​​​​​​​​​​​​​​​ I love spending time with my family, camping, reading, going to church and spending time with church family. I am very blessed to be able to do the things I do." Thank you Kelsey for all you do!​​​​​​​​​​​​​​​​​​​​​​​

Desiree Weiss School: Monroe County Technical Center Position: Therapeutic Services: Teaching CNA, EKG Technician and Phlebotomy Technician classes. Years of Experience: 8 1/2 years as a Registered Nurse. 1st year teaching. Professional Bio: In high school I worked as a Nursing Assistant at Country View Assisted Living, in college I worked as a Pharmacy Tech at Rite-Aid. I graduated from Bluefield State College in 2014 with my Associate's of Science in Nursing degree, becoming a Registered Nurse. I have 2 years experience in emergency/trauma, 2 years in school nursing, 2 years in mental health, and 2 years in dialysis. I have a 19 mo little boy and I spend all my time with him and family when I'm not working. Teaching has always interested me and now that I have the industry experience as an RN, as well as a little boy that needs me, working for Monroe Co Schools is a perfect fit for my life. So far I am enjoying it very much and have felt extremely welcomed by the staff and students at MCTC and JMHS. Welcome to the Monroe County family, Desi!